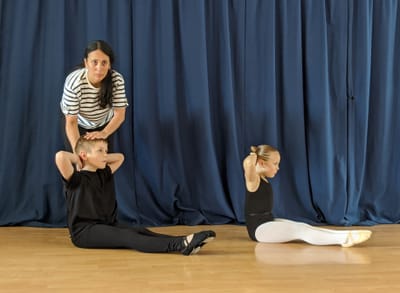 Contains elementary study ;
Level 1/2
Ballet stretches with rhythmic gymnastic elements (flexibility)
Rhythm (musicality)
Learn basic ballet steps and techniques through creativity
Ballet gymnastics on the floor and standing ( fitness development)
Motor learning skills games
Ballet acting skills (drama+plastic moves)
Classical Ballet Repertory (children's ballet)
Basic Pointe work (preparatory lesson)
Programs are available for amateurs and pre-vocational dancers. All skill levels are welcome.
Our Intensive Program Covers Health Fitness and Well Being and Benefits Scoliosis, Posture, and Osteoporosis.
For the Pre-Vocational level introduce classical dance fundamentals and a solid base of ballet technique. The program is classified as an intensive program (the foundation of ballet). Improves ballet education and strengthens the mind.
The course is preparing children from young ages for later participation in Classical Ballet Training Elementary and Grades Classes if they wish to continue or have been chosen.
The children learn in a very friendly disciplinary environment with fun and excitement. All program runs through mind creativity games and is based on sport discipline the children engaged very well and were happy to take part in the lesson. Lessons run for 1 hour and a half and are full of happiness through inspiration and motivation. We looking forward to seeing your child in our inspired friendly class.